It's Day Three! I can't wait to see what everyone has for us today. It's so fun to hop around and see all the Halloween Goodies. If you missed Day One or Day Two, you can find them HERE and HERE.
My first project today features one of my all time favorite cut-files from The Cutting Cafe. I use the seed packet file all the time! It's perfect as a treat, card, and tag pocket.
I think the Boo-tiful Day sentiment is so pretty. Wouldn't this be perfect as a "You've Been Booed" treat? This is part of a Cutting Cafe file. I'm thrilled with this black and gold pocket!
I also made a tag using The Cutting Cafe's Halloween Labels. You can get all the links to the files below.
Project Two is a treat box you can download.
And I love the black cat in a pumpkin - adorable, right? I've got that ready for you to download too. It's part of the vintage images for Halloween Party 2015.
Download the treat box HERE and HERE.
Download the black cat HERE.
Download the Printable Tags HERE.
This box is super easy to put together. The tabs (where the glue will go) are the solid yellow. You need to print both pages. If you have any questions, the video from
THIS POST
has a similar box.
If you like the patterns of this box, you can find a cube shaped box (and another cute kitty download perfect for Halloween) with a lid in THIS POST.
How about one more project? This one is magic!! Do you remember the magic slider cards from awhile back?
It really seems like magic when the picture is pulled out and it changes from black and white (or in my case black and yellow) to full color! The Halloween Magic and Tab are part of the tag printables above. Hard to photograph how cool it really is! I've got a video to show all the details on putting this one together.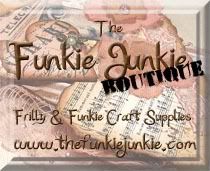 Lawn Fawn: pillow box and peek-a-bat dies
The Cutting Cafe: three free files of your choice
The Funkie Junkie Boutique: $25 gift certificate
I'm also giving a MEGA Halloween Party PRIZE (everything in the pictures + a $15 Lawn Fawn Gift Certificate:
How can you win these awesome prizes???
Easy. Leave a comment on my blog that you would like to win. Visit all the participating blogs and leave a comment for them. For every comment you leave, you get your name "in the hat." So if you leave a comment on every participating blog today, you get your name in the hat five times. If you commented on all the blogs yesterday and today, that makes eleven! It's not too late to comment on yesterday's posts, if you haven't. All winners will be announced on Sunday, September 27th. So be sure to leave all your comments by Saturday, September 26th at 11:59 p.m. central time.
This is the first ever Choux Choux Paper Art Challenge! The awesome prize I'm giving is a $25.00 gift certificate to Lawn Fawn! Told you the prize was AWESOME! Link up Halloween or Fall Projects. You can link up as many current projects as you want. Be sure to link to the ChouxChoux challenge in your post. Link up by Saturday, October 3rd. Winner (chosen by random selection) will be announced on Sunday, October 4th.
Link to the challenge HERE.
Enjoy the last day of Halloween Party 2015! Let 's go visit these blogs:
Have fun! Be sure to check back Sunday to see if you're a winner. See you Sunday!