Have we got a lot of fun for you....Halloween projects, freebies, and prizes, too! And how about a Link-Up Challenge??? With an awesome prize, I might add. We'll get to all the prizes just a little later.... Don't miss even one of the Halloween Party Surprises!
Okay, so is this one of the cutest pillow boxes ever? Brilliant over there at Lawn Fawn - coming up with these awesome dies! When I saw the name of the bat dies (Peek-a-Bat), I knew I wanted to create a little bat that actually plays Peek-A-Boo! So there he is with his wings closed and...
here he is with his wings open! And guess what? Lawn Fawn is giving away all the dies you need to make the Peek-A-Boo bat (pillow box die and Peek-A-Bat Die Set)! And I've got the Peek-a-Boo tags for you to print. I've even got a video showing how easy he is to put together.
How about one more project for day one? (Well, one more from me, we've got other blogs to visit, other things to see!) Now this is nothing but fun...I love cutie hangie thingies (you might say ornament)...
You could hang this on a doorknob, cabinet knob, gift bag, lamp, etc... Or just set it on a table. It's not only fun to look at - it's fun to put together. You can see all the details in the video and you can download the happy fright night tag, too!



The ornament cutie hangie thingie is going to be a Choux Box Kit. If you're interested in being a part of the Choux Box Kit Club, just click the tab at the top of my blog. Halloween Kits come out next week.
Download the Halloween Party tags HERE.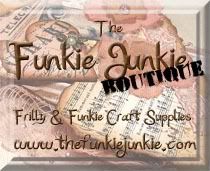 Lawn Fawn: pillow box and peek-a-bat dies
The Cutting Cafe: three free files of your choice
The Funkie Junkie Boutique: $25 gift certificate
I'm also giving a MEGA Halloween Party PRIZE (everything in the pictures + a $15 Lawn Fawn Gift Certificate:
How can you win these awesome prizes???
Easy. Leave a comment on my blog that you would like to win. Visit all the participating blogs and leave a comment for them. For every comment you leave, you get your name "in the hat." So if you leave a comment on every participating blog today, you get your name in the hat six times. All winners will be announced on Sunday, September 27th. So be sure to leave all your comments by Saturday, September 26th at 11:59 p.m. central time.
This is the first ever Choux Choux Paper Art Challenge! The awesome prize is a $25.00 gift certificate to Lawn Fawn! Told you the prize was AWESOME! Link up Halloween or Fall Projects. You can link up as many current projects as you want. Be sure to link to the ChouxChoux challenge in your post. Link up by Saturday, October 3rd. Winner (chosen by random selection) will be announced on Sunday, October 4th.
Link to the challenge HERE.
Whew! That was a lot for the first day of the Halloween Party. Be sure to come back for TWO MORE fun packed Halloween Party days. BUT WAIT.....there IS more for today! I think some of these lovely people have additional giveaways.
Come with me to visit these Halloween Party Blogs:
See you there and back here again tomorrow! So glad you came to the Halloween Party!